Las Olas Wine & Food Festival Celebrates 18 Delectable Years
By Rafa Carval
(Photos courtesy of LOWFF)
With 18 delectable years under its belt, the Las Olas Wine & Food Festival (LOWFF) will soon delight dining enthusiasts, foodies and wine lovers once again. This annual wine and food event will be presented by Bombay Sapphire® Gin, Apothic Wines, The Naked Grape Wines, Shellback Caribbean Rum, and Premier Beverage Company. It will feature an exciting assortment of new additions alongside a variety of pre- and post- events sure to take the Festival to new heights. Not only does LOWFF aim to please its attendees with a memorable culinary experience, it also fulfills its mission to save lives by improving lung health and preventing lung disease by donating proceeds from the Festival to the American Lung Association. This year's LOWFF will commence on Sunday, April 14 at Las Olas Wine Café from 12-10 p.m., offering guests an entire day to sample select wines featured at the Street Festival by simply purchasing a $20 wine card. Live musical entertainment will liven up the kick-off event, entertaining crowds from 2-6 p.m. "A Perfect Pairing" follows on Tuesday, April 16 from 7-9 p.m. at the Cheese Culture, where owner Susan Phillips will host a delish wine and cheese tasting, as well as a seminar giving guests insight into the longstanding relationship between tasty cheese and fine wine. Tickets for this exclusive event are limited to 30 guests.
Preston's Wine & Martini Bar will host "Wine and Dine" Wednesday, April 17 from 6-9 p.m., where Chef Toby Joseph will prepare an unprecedented five-course pairing menu featuring gourmet tapas paired with a selection of savory wines from E&J Gallo winery within the picturesque Riverside Hotel. Tickets are $50 per person. On Thursday, April 18, Napa Valley's Chateu Montelena and Tuscan Grill will join forces at 7p.m. to present an evening of live music, interactive food stands and great wine. The film Bottle Shock will pay homage to the 1976 French wine competition as guests gather on the patio and enjoy unlimited wine or an open premium bar.
The Festival will come to a climax as its crown jewel and highly anticipated Street Festival takes center stage on Friday, April 19 from 7:30-10 p.m. on Las Olas Boulevard enveloping four city blocks with food, wine and fun between S.E. 6th Avenue and S.E. 11th Avenue. More than 70 of South Florida's finest restaurants and over 45 wine tables and micro brews will be featured in this year's LOWFF. For the ultimate cocktail experience, the Bombay Sapphire® Gin lounge is back by popular demand, as well as the Culinary Couture Fashion Show by the Art Institute of Fort Lauderdale. Live entertainment such as The Weedline Band, the legendary Pan Vibes, and DJ Carlos, will shake the streets of Las Olas Boulevard. This will also be a year of many firsts for LOWFF. The Shellback Caribbean Rum Hut will make its debut, while The Naked Grape will sample its entire line of wines, including the new summer White Blend, and Apothic Wines will be featured at five different locations throughout the Street Festival, offering samples of their famous Red Blend, White Blend, and their new limited release Apothic Rose. Foodies and wine lovers rejoice!
Tickets for the 2013 LOWFF are $100 per person. For tickets, general information, full line-up of events, and pre- and post-events, visit www.lasolaswff.com.
This article was originally published in Wire Magazine Issue #14, 2013
New Mobile Site: Wire Magazine's Going Out Weekly Calendar of Events
Going Out? Check out Wire Magazine's new mobile site www.wiremag.com/goingout on your smartphone for details on where to go and what to do every week! Our weekly calendar of events is at your fingertips on your smartphone, Wire Magazine & www.wiremag.com.
WIRE'S GUIDE TO NEW YEAR'S
by Antwyone Ingram
NIGHTLIFE
Bayfront Park
Monday, Dec. 31, 8 p.m. – 12 a.m.
301 North Biscayne Blvd., Miami
Join Tony the Hitman at the largest FREE dance party in South Florida as you countdown with "La Gran Naranja" (formerly the Big Orange), as it ascends on the face of the Intercontinental Hotel leading up to midnight, followed by a spectacular fireworks display over Biscayne Bay.
The Betsy Hotel
Monday, Dec. 31, 8 – 11 p.m.
1440 Ocean Drive, Miami Beach
If sumptuous dining and live entertainment in a chic atmosphere is how you wish to ring in the New Year, The Betsy Hotel is where you will find it. Enjoy a five course dinner with wine pairings ($415), or simply without the wine pairings for $250. Reservations are required in advance; formal attire is optional.
The Catalina Hotel & Beach Club
Monday, Dec. 31, 8 p.m.
1732 Collins Ave., Miami Beach
Miami nightlife legend Gerry Kelly along with The Catalina Hotel present a Studio 54 New Year's Eve Extravaganza. A Studio 54 re–creation will transform the 3 unique venues within The Catalina while bringing you live DJs and entertainment. Enjoy a decadent raw bar, lavish dinner buffet, gourmet sushi and passed appetizers. Bring in the New Year with a performance by local favorite, Spam Allstars and a midnight champagne toast.
Club Cinema
Monday, Dec. 31, 10 p.m. – 4 a.m.
3251 North Federal Highway, Pompano Beach
Make your way to Size Matters for the GRAND OPENING of the biggest New Year's Eve party at a sprawling gay complex. featuring 3 rooms, 4 superstar DJs, megashow, free champagne, hors d'oeuvres, and no cover before 12:30 a.m. Let DJ Paul Coals (SALVATION London), DJ Maximus 3000, DJ Mark Demarko (Black & Blue Montreal), and DJ Bill James help you ring in the new year.
Delano
Monday, Dec. 31, 9 p.m.
1685 Collins Ave., Miami Beach
Bring in the New Year with singer, songwriter and producer Santigold with a complimentary champagne toast at midnight. General Admission ($150).
Discotekka
Saturday, Dec. 29 & Dec. 31 11 p.m.
950 NE 2nd Ave., Miami
Join downtown's largest gay dance party on Saturday Dec. 29 for Blast Off 2013 as DJ Miik, DJ Jarrell, and DJ Carlos G help you dance into 2013. For a New Year's celebration like no other, join DJ Renn on Dec. 31 for open format, a champagne toast, party favors, fireworks and a special show stopping production at 2 a.m. by Stephanie St. Lords and cast. Special Guest Ms. Coliseum Maite West. Open bar at 2:30 a.m. Doors open at 11 p.m., no cover all night. Afterhours follows at 4 a.m. with music by Carlos G. 
Dream Nightclub
Sunday, Dec. 30, 10 p.m. – 5 a.m.
1532 Washington Ave., Miami Beach
SUPERMARTXE PORNO STAR: Madrid's hottest party is ready to make its debut in South Beach. The event will feature USA male porn stars from RandyBlue.com, beautiful dancers from all across the globe, and specialty acts. International DJ/Producer Hector Fonseca will lead the night with his signature sound and infectious beats.
Eros Lounge
Monday, Dec. 31, 9 p.m.
8201 Biscayne Blvd., Miami
Eros Lounge celebrates 2013 with a sense of excitement and renewal for the Phoenix Rising New Year's Eve event. $10 cover (non-members) includes a complimentary glass of champagne at midnight. Eros Lounge is the perfect combination of a sexy lounge with a mix of fun and vibrancy. Bring in the new year with friends and avoid parking hassles and high prices. Special DJ to be announced. Free parking.
Fontainebleau Miami Beach
Monday, Dec. 31, 9 p.m.
4441 Collins Ave., Miami Beach
Canadian recording artist Drake, who has taken the world by storm for his collaborations with such artist as Nicki Minaj and Rihanna, will be hosting a NYE celebration poolside at the Fontainebleau alongside DJ Kayper. Premium open bar from 9 p.m. – 12 a.m. Champagne toast.
Kill Your Idol
Monday, Dec. 31, 11 p.m.
222 Espanola Way, Miami Beach 
Dustin Reffca presents New Year's Eve at Glitter Box Mondays, South Beach's hottest Monday night party with sparkling guest appearances, DJs Smeejay, FR8-O & Maximus 3000. $1 PBR Beer, $2 Jell-O shots & $4 vodka all night! No cover, party at 11 p.m. 222 Española Way.
LIV
Friday, Dec. 28 – Jan. 1, 2013 
4441 Collins Ave., Miami Beach
One of Miami's most notorious hotspots where celebrities often dwell, LIV has yet again confirmed a stellar New Year's Weekend line-up. Italian DJ and record producer Benny Benassi kicks off the weekend (Dec. 28), Swedish Duo, Dada Life follow (Dec. 29), Scottish superstar DJ Calvin Harris will rock the house on New Year's Eve, and Afrojack will bring the weekend to a close on New Year's Day.
The Manor
Monday, Dec 31 
2345 Wilton Drive, Ft. Lauderdale
Bring in the New Year in an exotic way as The Manor presents A Night In Bangkok, featuring DJ David Knapp. Enjoy a live Times Square remote telecast, balloon drop, champagne toast at midnight and so much more! Guests will be delighted by a NYE production by Erika Norell and company. Liquor will be served until 4 a.m. and dancing until 6 a.m. No cover!
Mansion
Saturday, Dec. 29 – Jan. 1, 2013 
1235 Washington Ave., Miami Beach
Dutch progressive and electro house DJ Hardwell will heat things up in preparation for the acts to follow on Dec. 29, while British legend DJ Carl Cox will bring in the New Year at Mansion with a 3 hour premium open bar. For those looking to keep the party going into 2013, Tracy Young will host her annual marathon circuit event Genesis X from 8 a.m. – 8 p.m.
MOVA
Monday, Dec. 31 
1625 Michigan Ave., Miami Beach
Toss back a few of MOVA's delicious signature handcrafted cocktails as the New Year approaches. The lounge, a favorite among locals will ring in the New Year with a free champagne toast at midnight; $50 Smirnoff and $100 Stoli bottle specials.
Mynt Lounge
Monday, Dec. 31, 11 p.m.
1921 Collins Ave., Miami Beach
The 2013 edition of New Year's Eve at Mynt will host an exclusive Cristal champagne event with resident DJs Julian Ingrosso and Rascal, with special guest Mz. Poppinz. Enjoy a variety of Cristal packages to suit the needs of large parties or purchase general admission tickets for $200, which includes a premium open bar 11 p.m. – 1 a.m.
Nikki Beach
Saturday, Dec. 29, 10 p.m. – 5 a.m.
1 Ocean Drive, Miami Beach
For New Year's Weekend, SALVATION is moving to Nikki Beach where thousands of guys (and a few girls) will dance in one of SoBe's most iconic clubs, right on the beach at the start of Ocean Drive. DJ Abel will take you on an uninterrupted musical journey from start to finish in a bigger SALVATION venue on SoBe for the first time in nearly a decade! Escape the hot and steamy dance floor and walk upon the sand while enjoying the cool beach breeze and moonlight. Discount tickets available at www.miamibeach2013.com
Palace
Monday, Dec. 31 – January 1, 2013.
1200 Ocean Drive, Miami Beach
Bid adieu to 2012 at Palace Bar with their fabulous New Year's Eve 2013 Extravaganza. Enjoy performances by Noel Leon, Tiffany Fantasia, Missy Meyakie LePaige, TP Lords, Poizon Ivy, Tlo Ivy, Melissa Hilton and Sasha Lords. DJ Cindel will be helping guests bring in the New Year with his signature beats. Palace will be offering 3 packages to accommodate guests: The Palace (one glass of Moet & Chandon champagne paired with three courses, $69), The Deluxe (one bottle of Moet & Chandon champagne per couple paired with three courses, $119), and The Imperial (one bottle of Veuve Clicquot champagne per couple, paired with three courses, $169.) Seatings will begin at 9 p.m. Continue the celebration with a New Year's Day Edition of both the popular Brunchic & T–Dance. One seating at 2 p.m., followed by T–Dance with DJ Pride.
Sawmill
Dec. 28 – January 1, 2013
21710 US Highway 98, Dade City
"America's First Gay Community" will bring guests First Night: 2013 Celebration Weekend featuring a spectacular line-up. Expect performances by Frenchie Davis, star of American Idol, The Voice, Dreamgirls on Broadway, and RENT. Meanwhile, The Sawmill Divas will present La Cage Aux Folles "where it's NYE in Paris and the girls are pulling out all the stops." Enjoy music by celebrity guest DJs with nightly high-energy parties alongside nightly beer bust for $10. A NYE Gala Dinner will bring patrons a first class dinner for only $25 prior to the big NYE blowout featuring a complimentary champagne toast and party favors. Make your reservations today for a guaranteed sell out party of the year at www.flsawmill.com
Score
Thursday, Dec 27 – Monday, Dec. 31.
727 Lincoln Rd, Miami Beach
Score's Deco New Year's Eve 2013 will transport guests back to the stylish 1940's era for an Art Deco-inspired celebration. Special guest DJ Nina Flowers, known for being a contestant on RuPaul's Drag Race, is also a talented DJ and accomplished visual artist. Score will provide guests with a open bar 10 p.m. – 11 p.m., complimentary champagne toast at midnight and a non-stop party that will go to the wee hours of the morning.
Space
Saturday, Dec. 29 & 31 
34 NE 11th St., Miami
Miami's staple mega venue most notable for its roster of world renowned dance music acts will bring Nicky Romero to the Terrace on Dec. 29th, while Marco Carola & Friends will present Music On Miami on New Year's Eve.
Story
Wednesday, Dec. 26 – January 1, 2013 
136 Collins Ave., Miami Beach
STORY (formerly Amnesia) will unleash a bevy of the world's best EDM DJs leading up to New Year's. This will also mark the epic opening weekend of the new venue. The week begins with two members of Swedish House Mafia; Steve Angello on Dec. 26 and Axwell on Dec. 27. Swedish EDM sensation Avicii will follow on Dec. 28, and the third member of SHM, Sebastian Ingrosso on Dec. 29. The legendary dance force that is Tiesto will descend upon STORY on Dec. 30 leading up to the climax of NYE. Kaskade will host the official New Year's Eve party pre an unprecedented finale featuring none other than deadmau5 on New Year's Day.
TWIST
Monday, Dec. 31, 1 p.m. - 7 a.m.
1057 Washington Avenue, Miami Beach
Start your NYE celebration early at TWIST. Enjoy 2-4-1 prices on everything all day from 1 - 9 p.m. in the Video Pub. The remainder of the club will open an hour earlier at 10 p.m. with two floors, seven different interconnecting bars, and 3 dance floors with VIP seating available. Bring in the New Year with a complimnetary champagne toast and video countdown with fireworks at midnight, viewable from TWIST' garden or upper observation deck. The party will go on util dawn as TWIST will offer extended hours and will be open and serving until 7 a.m. Dozens of the hottest men in Florida will take it off on two Gaiety stages running simultaneously till dawn, DJ Mika's infectious house beats, VJ Nathan's Pop in the Video Bar, and Aquilles' Latin Beats in Bar5 will keep you dancing into the New Year. Never a Cover - Always a Groove, even on New Years when neighboring venues charge well over $100. Avoid the line and get to TWIST early!
W South Beach
Saturday, Dec. 31 WET 9 p.m. – 2 a.m. | WALL 11 p.m. – 5 a.m.
2201 Collins Ave., Miami Beach
The W will host two of the biggest names in electronic dance music with a double NYE celebration. Up close and personal, WALL will host Swedish DJ and producer Otto Knows, while WET will host 21-yea-old Swedish EDM sensation Alesso, poolside. Open bar 9 p.m. – midnight.
DINING
660 at the Anglers
Monday, Dec. 31 Seatings: 6 & 9:30 p.m.
660 Washington Ave., Miami Beach
Join guitarist Alex Escandon, The Medina Band and DJ Martino as The Anglers will host its 2013 New Year's Eve Gala. Enjoy a decadent meal to ring in the New Year. Seatings at 6:00 p.m. (3 course, $100) and 9:30 p.m. (5 course, $150).
The Dutch
Monday, Dec. 30 Seatings: 6:30 p.m – 10 p.m.
2201 Collins Ave., Miami Beach
The Dutch will bring a truly extraordinary dining experience to guests on New Year's Eve. Chef Andrew Carmellini will provide guests with his special oysters and caviar on-hand while offering a five-course menu featuring a creamy risotto with tallegia and white truffle, a Prime NY strip garnished with whipped bone marrow and parsnip puree. Dessert will feature a seasonal selection of pastries. Two seatings are available at 6:30 and 7:00 p.m. ($150), and 9:00, 9:30, and 10:00 p.m. ($200), all of which feature a champagne toast. Unlimited wine and champagne is available for an additional $70.
The Forge
Monday, Dec. 31 Seatings: 6 – 8 p.m. & 8:30 p.m.
432 Arthur Godfrey Road, Miami Beach
Enjoy selections prepared by Chef Dewey LoSasso for New Year's Eve dinner at The Forge. Two seatings will offer guests a choice of a three or four–course meal. The first seating runs from 6 – 8 p.m., while the second will take place at 8:30 p.m. and include a bottle of Veuve Clicquot per couple with music and dancing. $95 – $350.
Gotham Steakhouse
Monday, Dec. 31 Seatings: 6:30, 8:30 and 9:30 p.m.
4441 Collins Ave., Miami Beach
Indulge in the culinary artistry of Chef Alfred Portale at Fontainebleau's AAA Four Diamond Award Winning Gotham Steakhouse while enjoying such dishes as applewood–smoked salmon rillettes with crème fraiche, pork belly with green apple, ivory lentils and foie gras, mesquite grilled filet mignon with lobster butter, truffle and white asparagus, and roasted banana and caramel ice cream. Seatings at 6:30 p.m. (four–course, $195), 8:30 and 9:30 p.m. (five–course, 295).
Scarpetta
Seatings: 6:30 & 9:30 p.m.
4441 Collins Ave., Miami Beach
Bring in the New Year in a spectacular setting with an Italian meal at AAA Four Diamond Award Wining Scarpetta. Two seatings will allow guests to choose from four or five–course meals featuring the NYC bred cuisine of Chef Scott Conant. Seatings at 6:30 and 9:30 p.m.
The Setai
Monday, Dec. 31, 7 p.m. – 2 a.m.
2001 Collins Ave., Miami Beach
For a truly elegant experience, join the Setai for a New Year's Eve celebration like no other. Culinary artistry prepared by The Setai's award–winning team of international culinarians and keepsake gifts designed by fragrance specialist Roja Dove will be provided for guests. The New Year's Eve dinner will include a Welcome Reception with Taittinger and canapés alongside a contemporary six–course gourmet menu. Following dinner, Brazilian dancers will lead guests into The Courtyard for a champagne countdown into the new year and dancing with a live big band and DJ, from 12 – 2 a.m. $850 per adult and $425 per child. Black & White tie attire required.
Toro Toro
Monday, Dec. 31 
Seatings: 7 & 9 p.m.
100 Chopin Plaza, Miami
Enjoy a sensational blend of Pan Latin styles and flavors with a four–course plated dinner with family–style appetizers and desserts, as well as all you can eat rodizio service. Two seatings are available; the first from 7 – 9 p.m. (adults $95, children $47.50) while the other will take place at 9 p.m. (adults $125, children $62.50).
Edge, Steak & Bar Specialty Dinner Night Series: Beer and Whiskey BBQ
Edge, Steak & Bar, the progressive steakhouse at the Four Seasons Hotel Miami, will host their next Specialty Dinner Night Edge, Steak & Bar Specialty Dinner Night Series: Beer and Whiskey BBQ on Tuesday, May 29 at 7:00 p.m. An interactive BBQ dining experience with craft beers by Cigar City Beers and High West Whiskeys. $79 per person, exclusive of tax & gratuity. Reservations are required.
Here is the menu:
Hickory Smoked Salmon, American Caviar, Cornflakes, Green Onion Puree. Paired with: Cigar City Saizon Beer and High West Silver Rye
BBQ'd La Belle Farms Duck, Foie Gras Griddle Cake, Huckleberry BBQ Sauce, Brussels Sprout Slaw. Paired with: Cigar City Red Ale and High West Rendezvous Rye
Lamb Sausage, Grilled Black Kale, Greek Yoghurt, Meyer Lemon Marmalade. Paired with: Cigar City Jai Lai and High West Son of Bourye
'The Bambino' - Creekstone Farms Thick Cut Porterhouse, Oxtail Baked Beans, Smoked Mash Potato, Sweet Corn Spoon Bread, Chow Chow and Bread & Butter Pickles. Paired with: Cigar City Madura and High West Double Rye
Dessert: Warm Brown Butter Chocolate Chip Cookies, Manhattan Jello Shots, Doughnut Milkshakes. Paired with: Cigar City Black Lager and High West 21 year Rocky Mountain
Edge, Steak & Bar is located at 1435 Brickell Avenue on the 7th floor of Four Seasons Hotel Miami. 305.381.3190. www.edgerestaurantmiami.com
Image Credit: Tomahawk Steak. Courtesy of Edge, Steak & Bar
Colin Powell Supports Same-Sex Marriage
General Colin Powell said Wednesday on CNN's "The Situation Room" that he supports legal same-sex marriage, either at the state or federal level.
"I have no problem with it. In terms of the legal matter of creating a contract between two people that's called marriage, and allowing them to live together with the protection of law, it seems to me is the way we should be moving in this country. And so I support the president's decision," said General Powell.
Harvey Milk will be honored in the same way we honor leaders such as Martin Luther King Jr.
After the tireless efforts of a group of community leaders, LGBT civil rights leader Harvey Milk will be honored in the same way  we honor leaders such as Cesar Chavez and Martin Luther King Jr.," said Dwayne Crenshaw, San Diego LGBT Pride Executive Director.
"Harvey Milk dedicated his life to leading our community in the struggle for equal rights. The unveiling of Harvey Milk Street will mark a symbolic moment in our history and a step in the right direction towards achieving the truly American value of equality," according to Crenshaw.
NAACP Support Marriage Equality
On May 19th, the National Association for the Advancement of Colored People released a resolution supporting marriage equality.
At a meeting of the 103-year old civil rights group's board of directors, the organization voted to support marriage equality as a continuation of its historic commitment to equal protection under the law.
"The NAACP Constitution affirmatively states our objective to ensure the "political, education, social and economic equality" of all people. Therefore, the NAACP has opposed and will continue to oppose any national, state, local policy or legislative initiative that seeks to codify discrimination or hatred into the law or to remove the Constitutional rights of LGBT citizens. We support marriage equality consistent with equal protection under the law provided under the Fourteenth Amendment of the United States Constitution.  Further, we strongly affirm the religious freedoms of all people as protected by the First Amendment."
IN THE FAMILY STAR LIVE IN PERSON AT CINEMA PARADISO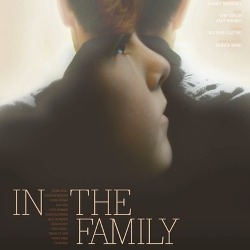 Writer-director-actor Patrick Wang's first feature film In the Family is, to say the least, unconventional. It's a film about a gay couple and their son in which the word "gay" is never spoken. It's almost three hours long, but it's absorbing, not exhausting. It turns away from dramatic moments most films would highlight, observing with a sidelong glance.
Wang is himself quite unconventional. A graduate of MIT with a degree in Economics and a concentration in Music and Theatre Arts, he's worked as an economist at the Federal Reserve Bank and Harvard's School for Public Health. His work as a theater director ranges from classical verse drama — the world premiere of a new translation of Medea – to new works, and he's published a collection of short dramatic works, The Monologue Plays and performed in M. Butterfly.
In the Family opens at Cinema Paradiso on Sunday May 6 and Wang will be there in person, meeting and greeting at a 7:00 pm reception and taking questions following the 8:30 pm screening of the film.
Wang's visual style is deliberate and low-key, and so unlike most films that at first it's almost off-putting. "Our techniques are risky, but the result is thrilling," says Wang. "Here are people. Here is a movie with people."
In the Family may not have the g-word or reaction shots, but it does have a love scene as moving as it is awkward; a fine, understated performance from child actor Sebastian Brodziak; an unspoken but powerful argument for marriage equality; a solid cast whose faces may be more familiar than their names; and a filmmaker's vision you shouldn't miss.
For tickets and more information, contact Cinema Paradiso at fliff.com or 954-760-9898.
SASHA GRADIVA IS WANTED 

Sasha Gradiva is America's most WANTED. Mysterious, beautiful and believed to be dangerous, this undercover spy is WANTED by authorities.  The "Gun Girl" (as she was dubbed by the media after she arrived to the Grammys red carpet clad in a pink gown with fire arm replicas) has released her first US single, WANTED, and will make her South Florida debut this Saturday night with live performances at Bill's Filling Station in Fort Lauderdale (at 10pm) and Score in Miami (at 1am).
Sasha Gradiva WANTED posters are plastered all over New York City.  Are you hiding out in South Florida?
Sasha Gradiva: Do you blame me?  South Florida is such a cozy and warm place to hide out.
For someone in hiding, you don't seem to be keeping a low profile.  
The authorities are invited to my shows. They will change their minds on my guilt with the first blink of my shiny glove and the first tune I sing. 
What exactly are you guilty of, Sasha?
They are accusing me of disturbing the peace and making people nervous.  They believe me to be dangerous!
Why did you wear guns to Grammys?
The gun replicas on my arm were meant to show that art is more powerful than weapons. 
You know Florida is a "Take your gun to work" state.  We are legally permitted to keep a firearm in our vehicle to/from work.  
I gotta think about switching the state I live in. 
Is music the ultimate peacemaker?
Music is neo-technology interacting with people's minds! It is the ultimate global peacemaker.
Sasha's two latest singles WANTED & I'M ON FIRE are now available on Itunes. For further info, visit her Facebook Fan page: www.facebook.com/SashaNow
Breaking News: Court Upholds Striking Down Prop. 8
The Ninth Circuit Court of Appeals upheld the August 2010 decision of the U.S. District Court in San Francisco striking down Proposition 8, the 2008 measure that stripped same-sex couples of the right to marry in California. The Court affirmed the ruling of former Chief U.S. District Judge Vaughn R. Walker that Prop 8 discriminates against same-sex couples in violation of the Equal Protection Clause of the U.S. Constitution. 
The court ruled that Proposition 8 violates the Fourteenth Amendment to the Constitution because it "serves no purpose, and has no effect, other than to lessen the status and human dignity of gays and lesbians in California, and to officially reclassify their relationships and families as inferior to those of opposite-sex couples." The court also rejected Prop 8 supporters' argument that Judge Walker should have refused to preside over the case because he is gay and in a relationship with a man. 
REPUBLICAN MARINE VET WITH GAY BROTHER FIGHTS FOR SAME-SEX MARRIAGE IN NEW HAMPSHIRE
A conservative Iraq vet has launched a popular campaign on Change.org calling on the New Hampshire state legislature to oppose the repeal of same-sex marriage to defend the freedom to marry for all couples regardless of sexual orientation.
Craig Stowell, a former Marine and co-chair of Standing Up For New Hampshire Families, is leading the campaign on Change.org urging New Hampshire state legislators to oppose H.B. 437, a bill to repeal same-sex marriage that legislators could vote on as early as this week. Craig started the campaign for his openly gay brother, Calvin, who he calls his best friend. "When I enlisted in the Marines, I took an oath to defend freedom and liberty, and now I'm defending my brother's freedom here at home," said Stowell. "When my wife Berta and I were married, Calvin was right there by my side as my best man. I want the opportunity to be his best man when he finds the person he wants to marry." 
Miami Doesn't make the "Gayest Cities of America" but Fort Lauderdale Makes the Cut
By Jesse Spencer
According to the newly released "Gayest Cities of America" by Advocate Magazine, Miami's gay crowd has left. The survey was set out to discover the alternative gayborhood cities that we all don't already know about (i.e. New York, LA). The survey ranked cities in the United States based on things like the number of LGBT politicians, number of LGBT sports teams and libraries among many other things like nude yoga classes. Fort Lauderdale ranked number four in the country.
Was Miami supposed to be included in these preset stereotypes with cities like L.A. and New York? I'm not sure, but their description of Fort Lauderdale gives light to a possible explaination.
Here's what the Advocate said about Fort Lauderdale
Booting spring breakers from its shores may have not boosted Jagermeister sales, but it sure has classed up the joint. Add to that a mass exodus from Miami, where a real estate boom priced out many gay clubs (then the boom busted), and you have the recipe for a rising homo mecca in South Florida. The area is teeming with gay bars and restaurants, and a ton of guesthouses and spas that run the gamut from mild to spicy. Lesbians are finally starting to move to Fort Lauderdale too, though most girl bars, like New Moon (NewMoonBar.com), are in nearby Wilton Manors.